Welcome to the Ferraro Mediation Group
Founded by Joseph Ferraro, a lawyer in California and New York with more than thirty years of managing and trying high-stakes lawsuits, the Ferraro Mediation Group provides mediation services in business, real estate, intellectual property and other complex disputes.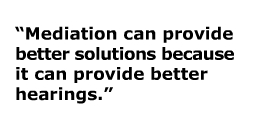 Business, real estate and intellectual property disputes are ever more risky and more frequent, yet trials are shrinking in number and are being compressed into shorter time periods. Few courts can provide a full hearing of the issues. Questions of financial accounting, patent validity, infringement, damages, enforceability and licensing can be baffling to juries and frustrating to dedicated and hard-working judges. Under the best circumstances, judicial solutions are limiting, and fail to promote ongoing relationships and the synergies that they can create. Mediation before a neutral mediator, who has the time and interest to listen to the parties and to understand the issues, can provoke open discussion and lead to creative solutions.
Please click on the links at the left to learn more about mediation, to read about our philosophy, to find Joe's biography, articles and speeches, and to find out how to contact us to talk about mediation and how it can work for you.